Chesapeake Sprinkler Company is a leading fire sprinkler contractor in the region, which is now a 100% employee-owned (ESOP) company. We are an established fire protection services provider operating since 1978 and started as a family-owned business.
As a full-service fire protection company, we offer design, fabrication, installation, testing, maintenance, and inspection of fire protection systems. With the company's rapid growth and expansion in the 1980s, we opened offices in northern Virginia and worked with renowned contractors in the region, including Clark, Turner, and many others.
Over the years, the Chesapeake Sprinkler Company worked on a variety of projects for big companies and organizations throughout the Baltimore and Washington DC areas. We have served our clients with end-to-end fire protection system solutions and services. Some of which included the following:
Tyson Towers
US Department of Transportation
US Department of Justice
Oriole Park at Camden Yards
Baltimore Convention Center
Washington Redskins training facility (Ashburn, VA)
Baltimore Ravens training facility (Owings Mills, MD)
Chesapeake Protection Services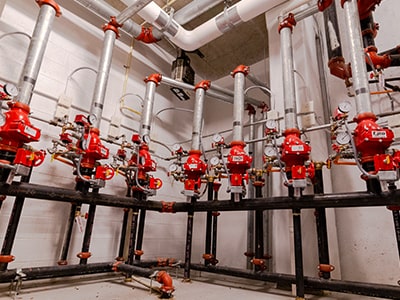 Later in 1988, the company started its separate division named Chesapeake Protection Services. This division is dedicated to providing state-of-the-art fire alarm systems inspection, testing, service, and maintenance to the end-users, including facility managers, property managers, and business owners.
As the business expanded, the company started offering specialty fire alarm systems services, including inspection of fire alarm systems, maintenance, testing of all kinds of fire protection systems (wet/dry systems and pre-action systems), special hazards, and mechanical services. The company is among the few companies that offer an in-house fire pump rebuilding and maintenance facility.
Chesapeake Protection Services provides end-to-end fire protection solutions and complete project management from budgeting to completion of the project, testing, and maintenance. It performs all the jobs in-house.
As an established fire protection system solutions provider, Chesapeake Protection Services has worked on a large number of fire sprinkler system projects of all sizes and scales and served different industry verticals.
Give us a call today
to discuss your commercial fire protection project with one of our certified experts!