Chesapeake Sprinkler is a leading fire sprinkler installation/service and maintenance contractor in the Baltimore Washington metroplex. Established in 1978, we quickly became recognized as a leader in the industry. Starting as a family owned business, we evolved into a Employee owned business and in 2022 we became a member of the Century Fire Protection family. Enhancing resources and buying power to benefit our clients.
As a full-service fire protection company, we offer design, fabrication, installation, testing, maintenance, and inspection of fire protection systems. With the company's rapid growth and expansion in the 1980s, we opened offices in northern Virginia and worked with renowned contractors in the region, including Clark, Turner, and many others.
Over the years, the Chesapeake Sprinkler Company worked on a variety of projects for big companies and organizations throughout the Baltimore and Washington DC areas. We have served our clients with end-to-end fire protection system solutions and services. Some of which included the following:
Tyson Towers
US Department of Transportation
US Department of Justice
Oriole Park at Camden Yards
Baltimore Convention Center
Washington Redskins training facility (Ashburn, VA)
Baltimore Ravens training facility (Owings Mills, MD)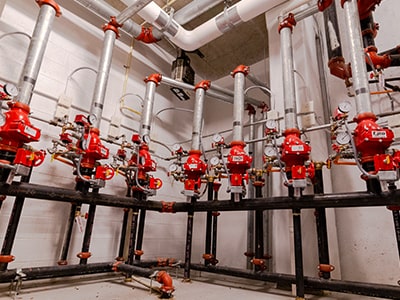 In 1988, the Company started Chesapeake Protection Services. CPS was dedicated to providing state-of-the-art fire alarm systems inspection, testing, service, and maintenance to the end-users, including facility managers, property managers, and business owners.
As CPS expanded they began offering specialty fire alarm systems services, including inspection of fire alarm systems, maintenance, testing of all kinds of fire protection systems (wet/dry systems and pre-action systems), special hazards, and mechanical services. CPS was among the few companies that offer an in-house fire pump rebuilding and maintenance facility.
Now, with the unification of CSC and CPS we provide end-to-end solutions and complete project management from budgeting to completion of the project, testing, and maintenance. It performs all the jobs in-house.
As an established fire protection system solutions provider, we have worked on a large number of fire sprinkler system projects of all sizes and scales and served different industry verticals.
Client Testimonial
For the past 18 years I have relied upon Chesapeake Protection Services for all my life safety needs. I have found them to be knowledgeable, prompt, and professional which is why I keep renewing my contract year after year. Their technicians are professional and courteous to our Tenants, and always neat and tidy. I will continue to trust Chesapeake Protection Services for all my life safety needs and encourage others to do the same; you won't be disappointed.
Casey Ingram – Engineer and Facility Manager, The Brick Companies