How Chesapeake Sprinkler Company differs from Other Companies in the Industry?
Unlike other companies in the industry who must go to a third-party service for fire pump rebuilding and other maintenance, Chesapeake Sprinkler Company division has developed its own in-house fire pump rebuilding team. This has empowered us to perform the rebuilding and maintenance functions quickly and efficiently with little to no down time on the end user.
Chesapeake Sprinkler Company is an accredited, licensed, documented and fully insured service company.
The emergency services of Chesapeake Sprinkler Company are available 24/7 and 365 days a year with live customer service agents to provide you immediate assistance. We use no answering machines or answering services here at Chesapeake Sprinkler, we want to put you at ease with a live voice qualified to handle any emergency.
Chesapeake Sprinkler Company is known for the best in the industry two-hour response time for after-hours emergency service calls.
At Chesapeake Sprinkler Company, from testing to reporting, budgeting, designing and completion of any project, we do everything in-house.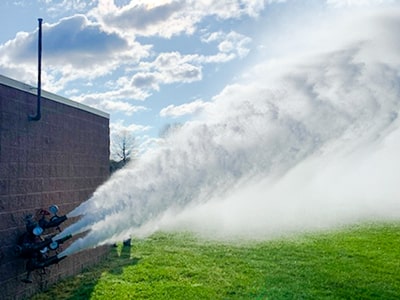 High-Quality and Standardized Fire Systems Inspection, Testing and Maintenance Services
To ensure the complete safety of your facility, Chesapeake Sprinkler Company provides you with high quality and standardized fire sprinkler system inspection, testing, and maintenance services. Through our code compliant and custom-designed in house and factory trained procedures, we assure the preparedness of your Life Safety systems. Our emergency fire system services give you the peace of mind that your fire sprinkler systems are functioning optimally in the event of a fire.
How We Perform Fire Sprinkler Systems Inspection, Testing, and Maintenance
With decades of combined experience in the fire protection industry, our NICET Certified team thoroughly inspects and tests your fire protection equipment per both the NFPA requirements as well as the requirements of the Authority Having Jurisdiction. We physically test, run and document every component under actual site conditions to ensure that the entire system is functioning correctly.
The Many Fire Protection Systems and Equipment That We Professionally Inspect, Test and Maintain
Air Compressors
Nitrogen Generators
Antifreeze Loops
Full Fire Alarm Testing
Elevator Recall Testing
Stairwell Pressurization Testing
Pre-Action Fire Sprinkler Systems
Deluge Fire Sprinkler Systems
Wet Pipe Fire Sprinkler Systems
Dry Pipe Fire Sprinkler Systems
Stand Pipe and Hose Systems
Fire Pump Testing
AHJ Required Annual NICET ENDORSED Visual Inspections for *Code Compliance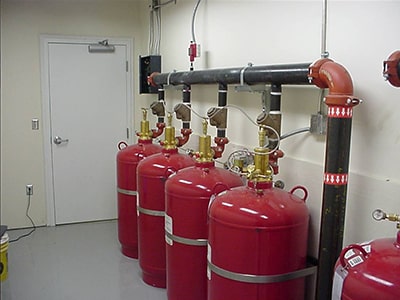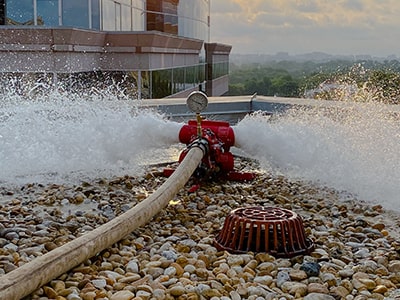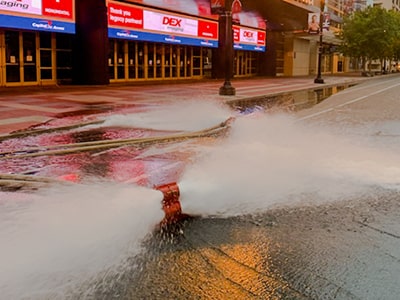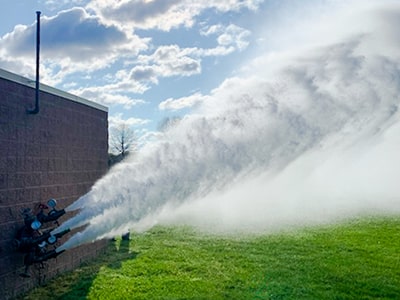 Testing and Maintenance of All Types of Fire Alarm Systems
At Chesapeake Sprinkler Company, our professionals routinely perform testing and maintenance of numerous types and manufacturers of fire alarm systems. Our technicians also have successfully installed, tested, and maintained a wide variety of fire alarm equipment from different manufacturers as well. This means that irrespective of your system manufacturer, you can rely on our expertise to keep you safe and compliant.
Specialty Services of Chesapeake Sprinkler Company
By 2000, Chesapeake Sprinkler Company added Chemical, Foam and Fire Protection Gas System Testing and Installation to the already growing line up of services. If you have the need for the addition of Special Hazard to your space or if you have an existing system in need of test and service, Chesapeake Sprinkler Company has you covered.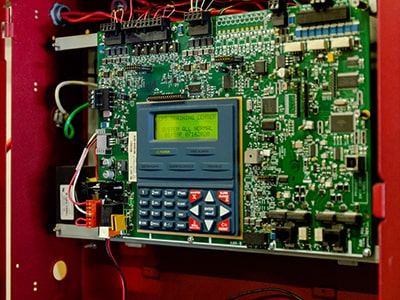 Our UL Approved Central Monitoring System
As an established fire protection services provider in the industry, we have developed a strong and approved network for fire alarm systems monitoring. We use advanced IP fire monitoring with multiple independent paths for transmission, which provide full signal availability. With our swift, reliable, and cost-effective fire monitoring, you get prompt fire protection services if a fire occurs.
At the monitoring centers, there is a constant check on the operations of your fire sprinkler systems. If even a slight activity is observed in your fire protection system, the trained fire safety agents instantly send you a notification as well as to the local fire department.
Contract Offerings
We currently offer Monthly, Quarterly, Semi-Annual and Annual agreements for you to keep all life safety equipment functioning to its design capabilities. Chesapeake Sprinkler Company also offers full winterization packages to help you to avoid the high costs of freeze ups in those extreme winter weather conditions.
Chesapeake Sprinkler Company will even manage your records in case they need to be sent out to a third party with your permission.
Offering Expert Consultation for Your Future Building Needs
After performing any inspection, if your existing systems are insufficient or deficient for the fire protection needs of your building, we provide expert consultation to assist you in fulfilling your future building requirements. We give recommendations regarding recalled equipment, system deficiencies, and required repairs. Our knowledgeable staff will also provide you with advice about which deficiencies should be taken care of promptly and which deficiencies can be put into a capital budget for future repair. Additionally, we provide training to the building engineering team at no additional cost to keep your fire sprinkler systems functioning seamlessly.
Get in touch with us now to take our fire protection systems inspection, testing, and maintenance plan!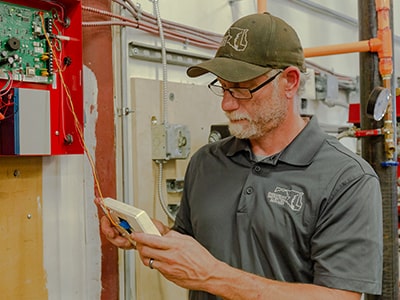 Quick, Efficient and Timely Fire Sprinkler System Repairs and Services
Our fire sprinkler system repair services are designed for your convenience. With our full on-site fabrication facility, we do not need to send pipes or other components to third parties for fabrication. This means that you do not need to wait long hours to get your pipe or piece repaired or fabricated. Our trained and experienced craftsmen fabricate your fire system parts and return them back to site for our tradesmen – usually on the same day, thus ensuring fire protection of your facility goes back online without any delays.