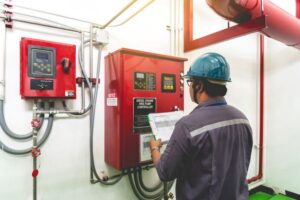 Different fire suppression systems are available for use in commercial buildings. To protect customers and property, businesses must have lifesaving equipment. After inspecting your property, Chesapeake Sprinkler Company can advise you on selecting the appropriate fire safety system for your building. Continue reading to learn more about these different fire suppression systems.
Sprinkler Systems
Water is used in sprinkler systems for fire suppression to extinguish flames. The room's function will determine the sort of fire sprinkler system you install. They function best in well-insulated or climate-controlled buildings, typically workplaces or places where people gather frequently. For human-occupied structures, wet sprinkler systems are typical. Storage facilities and warehouses benefit significantly from dry sprinkler systems because they don't require temperature regulation.
An Industrial Fire Suppression System
Specific chemicals are used in an industrial fire suppression system to extinguish fires. The industrial fire suppression system uses ABC or BC powder to put out fires instead of water, neutralizing combustible substances or oils. It can damage delicate equipment and priceless items like paintings because it leaves residue behind. Buildings with people in them can safely use this fire suppression system.
A Clean Agent Fire Suppression System
The clean agent fire suppression system is another fire prevention device that uses odorless gas to remove oxygen from a space. The vital force of fire is oxygen. Fires go out without it. Unfortunately, this kind of fire suppression device is inappropriate for use in areas where people are present. This fire safety system is recommended in data centers and warehouses housing priceless goods. A clean agent, fire suppression system, won't leave behind a residue, unlike industrial fire suppression systems.
Contact Chesapeake Sprinkler Company Today!
Chesapeake Sprinkler Company is a leading fire sprinkler contractor in the region, which is now a 100% employee-owned (ESOP) company. As a full-service fire protection company, we offer design, fabrication, installation, testing, maintenance, and inspection of fire protection systems—everything you need from your fire suppression specialist.
For more information, please email or call our Odenton location at 410-674-7041, our Ashburn location at 703-729-5150, or for service/maintenance Chesapeake Protection Services at 410-674-7577. Feel free to keep in touch through Facebook, Twitter, or LinkedIn!