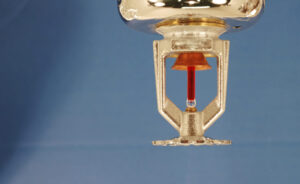 It's crucial to make sure your sprinkler system is in functioning order since a fire protection system actively protects your workers and business property. Did you know that a sprinkler system could deteriorate and even lose its effectiveness over time? Because of blockages, leaks, rust buildup from aging, and fixture deterioration over time, fire sprinkler systems are susceptible to aging. Here are a few tips to help determine if your fire sprinkler system needs repairs.

Maintenance And Inspections Can Diagnose Future Repairs
Your fire sprinkler system needs to be inspected, tested and maintained frequently. At Chesapeake Sprinkler Company, we can assist in guiding your business toward testing your systems in accordance with codes that are based on the recommendations of the National Fire Protection Association and your local Maryland laws. By performing regular inspections, testing, and maintenance, you can quickly catch any signs that your commercial fire sprinkler system needs repairs.
You Have An Older System
Your sprinkler system's age might also assist you decide whether it needs to be repaired or completely replaced. If you have access to the documentation for your commercial building or have owned your company long enough to know the precise age of your sprinkler system, you may decide when it's time to replace it rather than continue with maintenance. In order to provide the best level of protection for building residents and property, all sprinkler systems installed in buildings built in 1920 or before must be automatically updated.
Visible Signs Of Damage
Any obvious damage to the fire sprinkler system's outside can render it ineffective, which could cause property loss and fatalities in the case of a fire. Do not delay in getting in touch with the knowledgeable experts at Chesapeake Sprinkler Company if you see any indicators of leakage, pipe damage, or corrosion, or have been informed of a recall in your fire sprinkler system.
Contact Chesapeake Sprinkler Company Today!
Chesapeake Sprinkler Company is a leading fire sprinkler contractor in the region, which is now a 100% employee-owned (ESOP) company. As a full-service fire protection company, we offer design, fabrication, installation, testing, maintenance, and inspection of fire protection systems—everything you need from your fire suppression specialist.
For more information, please email or call our Odenton location at 410-674-7041, our Ashburn location at 703-729-5150, or for service/maintenance Chesapeake Protection Services at 410-674-7577. Feel free to keep in touch through Facebook, Twitter, or LinkedIn!