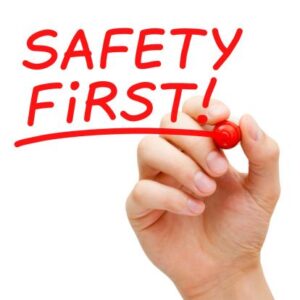 If you own or manage a restaurant, your company may have fire concerns. Every day at your restaurant, you should ensure the safety of both your customers and your staff. Here are some fire safety factors to think about for your restaurant business not only this summer but going forward as well.
Prioritize Indoor Restaurant Safety
Services for cleaning the hood and ducts: These services are essential for maintaining the fire safety of your restaurant and are also mandated by NFPA 96. A hood and duct system that is oily and dirty poses a significant fire risk, so cleaning this kitchen item should be handled by a professional on a regular basis.

Your kitchen is the room in your restaurant space that is most prone to fire. Having properly installed and routinely maintained kitchen fire suppression systems is another essential line of defense against potential kitchen fires, in addition to keeping your kitchen's hood and duct clean.

Fire Doors: In the event of a fire, fire doors give access to the structure and provide fire safety protection. Laws, such as those found in local and state regulations, also mandate the use of fire doors. Make sure your fire doors are always functional and in compliance.

Safety Signage: Use the appropriate safety signage to ensure that both your staff and guests may exit your restaurant safely.

Fire Exit Condition: It's crucial that the fire exits around your restaurant are always visible, clear, and unobstructed. Instant access to an exit is crucial in the event of a fire at your restaurant.
Outdoor Dining Safety
Outdoor Seating Should Be Accessible: It is vital to ensure that  your outdoor dining space is easily accessible for all and people can walk around the outdoor patio to get to and from their seats.
Fire Extinguishers Should Be Accessible
Not only is it crucial to have fire extinguishers within the restaurant, but you also need to have these fire safety supplies close to any outside dining areas where a fire can start and need to be extinguished.
Contact Chesapeake Sprinkler Company Today!
Chesapeake Sprinkler Company is a leading fire sprinkler contractor in the region, which is now a 100% employee-owned (ESOP) company. As a full-service fire protection company, we offer design, fabrication, installation, testing, maintenance, and inspection of fire protection systems—everything you need from your fire suppression specialist.
For more information, please email or call our Odenton location at 410-674-7041, our Ashburn location at 703-729-5150, or for service/maintenance Chesapeake Protection Services at 410-674-7577. Feel free to keep in touch through Facebook, Twitter, or LinkedIn!