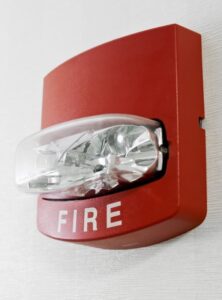 The server room is one of the worst places for a fire. Even a small amount of smoke in the room can severely damage your IT equipment. Sulfur and chloride byproducts can corrode metal materials over time, even with brief exposure. However, you can prevent server room and IT equipment damage. Although the expensive equipment in a server room is replaceable, your confidential and vital data is not. Here's how you can prevent a fire in your server room.
What Are The Causes?
The National Fire Protection Agency (NFPA) has identified three of the most common causes of server room fires.
Electrical equipment that becomes overloaded or short-circuited can pose a severe 

fire hazard

. 

Another potential cause of fires in server rooms is malfunctioning or faulty wires running through the subfloor, which can be challenging to detect. 

Overheating is also a common issue that can lead to fires, especially when electronics don't have enough room to ventilate or aren't properly cooled.
Fire Prevention For Your Server Room
A fire is devastating and preventable. Know what to do to prevent one from occurring.
Keep the room at an appropriate temperature

: Keeping IT equipment from overheating is best achieved by maintaining a temperature range of 68-71 degrees and a humidity level of 40-60% to reduce static electricity and prevent fire hazards.

Keep the room neat

: Correctly plug in and store wires and cables. Remove unused and unnecessary items to prevent fires.

Keep things dust-free

: Dust or debris settling on or in equipment could contribute to overheating.

Maintain a Properly Ventilated Room

: It's best practice to keep servers and equipment free from obstructions.

Inspect cords and equipment

: It is essential to regularly inspect cords and outlets for signs of fraying or damage, as well as check server power supplies with diagnostic software to detect minor defects before they develop into significant problems.

Hire us

: If you're unsure whether your room or building poses a fire hazard, it's essential to have your fire suppression systems regularly inspected and maintained to ensure optimal functioning. You can rely on 

Chesapeake Sprinkler Company

 to ensure that your building meets the standards set by the National Fire Protection Association (NFPA).
Contact Chesapeake Sprinkler Company Today!
Chesapeake Sprinkler Company is a leading fire sprinkler contractor in the region, which is now a 100% employee-owned (ESOP) company. As a full-service fire protection company, we offer design, fabrication, installation, testing, maintenance, and inspection of fire protection systems—everything you need from your fire suppression specialist.
For more information, please email or call our Odenton location at 410-674-7041, our Ashburn location at 703-729-5150, or for service/maintenance Chesapeake Protection Services at 410-674-7577. For emergencies, call 800-298-3473 (FIRE). Feel free to keep in touch through Facebook, Twitter, or LinkedIn!