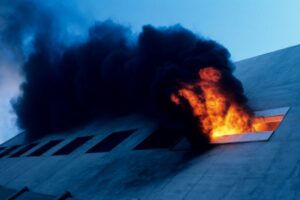 Chesapeake Sprinkler Company provides elevator recall system testing services. This test ensures that in case of a smoke detector activation in an elevator lobby, shaft, or mechanical room, the elevator will recall to the ground floor, open its doors, and stop operation for safety purposes. Elevator recall testing is crucial in ensuring the safety of the people using the elevator and the building. Here is more information about the importance of elevator recall testing.
An Elevator Recall Happens in Two Phases
When a smoke detector in an elevator lobby on any floor served by that elevator bank goes off, or when the fireman's key switch near the elevator hall calls on the primary or secondary floor is activated, Phase I begins. All elevators sharing the same lobby will travel down to the main floor, stopping and opening their doors. If there is a secondary floor for fire department access and a smoke detector in the main floor's lobby goes off, all elevators will travel down to the second floor. It is important to note that this secondary floor must be accessible and available.
Phase II: Firefighter Controls Elevator Cab
If a firefighter needs to use the elevator during a fire, they can manually activate it using a unique key switch inside the elevator cab. Once activated, the firefighter can use the elevator by holding down the "door-close" button until the doors fully close and pressing the desired floor number. The elevator will reopen if the button is released before the doors close. However, if a smoke detector in the elevator lobby is triggered, the elevator won't stop, and the doors won't open on that floor.
The Importance of Elevator Recall Testing
Firefighters must be alert when using the cab, as fire may be present in the elevator or machine room, posing a risk to their safety. Moreover, elevator recall is essential to prevent the public from using the elevator and entering smoke or flame-filled areas. During our inspections, we check the initiating devices, such as smoke detectors, to ensure proper function with recall functions. Testing fire protection equipment and systems is crucial for saving lives. Contact Chesapeake Sprinkler today to ensure your fire protection systems are up to par.
Contact Chesapeake Sprinkler Company Today!
Chesapeake Sprinkler Company is a leading fire sprinkler contractor in the region, which is now a 100% employee-owned (ESOP) company. As a full-service fire protection company, we offer design, fabrication, installation, testing, maintenance, and inspection of fire protection systems—everything you need from your fire suppression specialist.
For more information, please email or call our Odenton location at 410-674-7041, our Ashburn location at 703-729-5150, or for service/maintenance Chesapeake Protection Services at 410-674-7577. For emergencies, call 800-298-3473 (FIRE). Feel free to keep in touch through Facebook, Twitter, or LinkedIn!