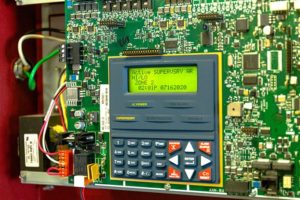 It is important to have proper fire protection systems installed in every building nationwide, as they are at risk of catching fire. While smoke alarms and fire extinguishers are required by law in most commercial buildings, installing a customized fire alarm system is the optimal solution for ensuring your building's safety. Customized fire alarm systems play a critical role in overall fire protection and are essential for your building's protection.
Custom Fire Alarm Systems For Your Business
To ensure fire safety in commercial buildings, fire and smoke detectors must cover the entire square footage and be installed no more than 20 feet apart. Standard detectors may not effectively cover smaller offices, hallways, and uniquely shaped spaces. The most reliable fire protection systems are those professionally installed to protect the entire building. Measuring the footage of the facility can determine the optimal placement for complete coverage.
Customized Fire Alarm Systems are Advanced 
When it comes to fire safety, a custom system goes beyond just standard smoke detectors and alarms. Advanced fire alarm setups offer the latest technology, sleek designs, easy-to-use interfaces, and intelligent detection capabilities. These setups may include air sampling devices that detect contaminants like gases, vapors, dust, and fibers and two-way voice service for the rescue area and elevators. Additionally, remote system access is convenient, and landline and cell equipment monitoring are available.
Cheaper Maintenance Costs
Replacing a fire alarm system can be costly, and a generic system may need to offer adequate protection. Specialized systems come with warranties and access to instant repairs or replacement parts. Regular check-ups help catch minor problems early, reducing maintenance costs and preventing more expensive repairs.
Quicker Response Times
Not all fire alarm systems alert the fire department immediately, and a manual call is still required. A specialized technique that automatically contacts the fire department can reduce property damage and protect against loss of life. Chesapeake Sprinkler offers customized fire alarm systems that can be installed to provide this level of protection.
Contact Chesapeake Sprinkler Company Today!
Chesapeake Sprinkler Company is a leading fire sprinkler contractor in the region, which is now a 100% employee-owned (ESOP) company. As a full-service fire protection company, we offer design, fabrication, installation, testing, maintenance, and inspection of fire protection systems—everything you need from your fire suppression specialist.
For more information, please email or call our Odenton location at 410-674-7041, our Ashburn location at 703-729-5150, or for service/maintenance Chesapeake Protection Services at 410-674-7577. For emergencies, call 800-298-3473 (FIRE). Feel free to keep in touch through Facebook, Twitter, or LinkedIn!