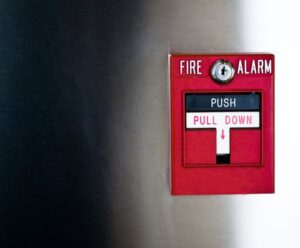 Ensuring that your fire protection systems are functional can prevent significant losses and damages in the event of a fire emergency. However, even after installation by experts, many individuals are uncertain about their fire alarm systems' workings and how they protect their property. In this blog are four FAQs that people commonly have regarding fire alarm systems.
Are There Different Types Of Fire Alarms?
There are two primary types of fire alarms: ionization and photoelectric. Ionization alarms detect fast-moving fires, such as those that might start in curtains or trash cans. Photoelectric alarms, however, are better suited for detecting smoldering, smoky fires, such as those that begin behind walls. For optimal protection, it's a good idea to install both types of alarms or to use a dual-sensor alarm that combines the two.
Do I Need Both A Fire Alarm And Sprinkler System? 
Installing fire sprinkler systems can help extinguish fires once they have started, but they only activate once the temperature has reached a certain point, which can result in damage. It is also recommended to have fire alarm systems and smoke detectors in place, as they can detect smoke and gases before the outbreak of flames. This gives you and your employees more time to evacuate the building safely. Also, fire alarm systems can alert the fire department in an emergency.
Are Fire Alarms Durable?
It is recommended to replace fire alarms every ten to twelve years, even if they function correctly. It is essential to prioritize fire safety and not take any risks.
Can I Stop My From Chirping?
If a fire alarm is chirping regularly, it is probably time to replace its batteries. However, if you hear random chirps, there may be several possible reasons, including the following:
If you are experiencing issues with your alarm, it could be due to a loose or incorrectly installed battery. It's vital to ensure the battery is securely placed in the designated slot to ensure proper contact with the alarm. If you suspect the battery is not in place correctly, simply remove and reinsert it into the space.

If your fire alarm starts chirping, it may be due to the accumulation of dust and dead bugs in the sensor chamber. It is recommended to vacuum out the chamber when replacing the batteries every six months. This will ensure proper functioning and avoid false alarms.

Nowadays, electronic fire alarms have logic boards that prompt them to chirp when the battery is running low. But changing the battery doesn't always stop the chirping. Pressing the reset button is sometimes necessary to ensure the smoke detector functions correctly.

If there is a power interruption, the fire alarm may chirp when power is restored due to a power surge. To fix this issue, press the reset button.
Contact Chesapeake Sprinkler Company Today!
Chesapeake Sprinkler Company is a leading fire sprinkler contractor in the region, which is now a 100% employee-owned (ESOP) company. As a full-service fire protection company, we offer design, fabrication, installation, testing, maintenance, and inspection of fire protection systems—everything you need from your fire suppression specialist.
For more information, please email or call our Odenton location at 410-674-7041, our Ashburn location at 703-729-5150, or for service/maintenance Chesapeake Protection Services at 410-674-7577. Feel free to keep in touch through Facebook, Twitter, or LinkedIn!