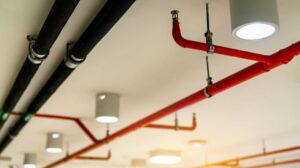 Fire sprinkler systems are critical fire protection systems used to minimize and manage the spread of flames within a commercial building, lowering the risk of injury to building inhabitants and property. Like most systems, the fire sprinkler system in your facility requires routine inspections, testing, and maintenance to ensure it is up-to-date, code-compliant, and working effectively. Postponing fire sprinkler system inspections can result in costly fines, repairs, and replacements and put building occupants in danger in the event of a fire. There are only a few telltale signals that your building's fire sprinkler system requires an examination. Continue reading to learn the following signs that your fire sprinkler system should be inspected.
Visible Damage
You should have it evaluated immediately if you discover visible damage indicators to your fire sprinkler system, such as leaking, corrosion, or damage to its pipes and sprinkler heads. Damage to your fire sprinkler system could signal that it is out of commission and needs to be repaired or replaced. A damaged or malfunctioning fire sprinkler system is a severe fire danger that can have disastrous implications for a building and its people in the event of a fire.
Renovations To Your Property 
If you've redesigned or made physical changes to the construction of your building, your fire sprinkler system should be evaluated. This guarantees that your system is up to date with the new infrastructure in your building. It also ensures that any construction-related damage is recognized early and repaired before it becomes a severe and costly fire hazard for your facility, its residents, and your fire sprinkler system.
You Have An Older System
Although visible indications of damage are easy to spot and can help you evaluate whether your fire sprinkler system needs to be serviced, age is another factor to consider. If your fire sprinkler system is old and outdated, you must schedule a fire sprinkler system check with Chesapeake Sprinkler Company. A fire sprinkler examination can help you identify whether your system is current, in good operating order, meets building requirements, or is damaged and requires repairs or replacement.
Contact Chesapeake Sprinkler Company Today!
Chesapeake Sprinkler Company is a leading fire sprinkler contractor in the region, which is now a 100% employee-owned (ESOP) company. As a full-service fire protection company, we offer design, fabrication, installation, testing, maintenance, and inspection of fire protection systems—everything you need from your fire suppression specialist.
For more information, please email or call our Odenton location at 410-674-7041, our Ashburn location at 703-729-5150, or for service/maintenance Chesapeake Protection Services at 410-674-7577. Feel free to keep in touch through Facebook, Twitter, or LinkedIn!