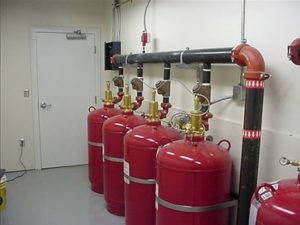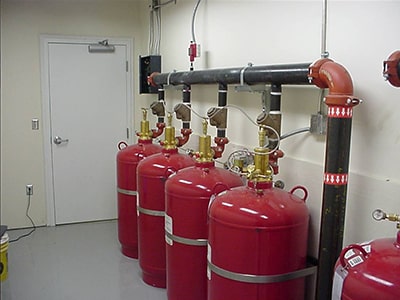 Fire suppression systems are becoming increasingly popular among businesses, as they provide fire protection without causing water damage to computers and other sensitive items. Read on to learn more about these fire suppression systems and how they can benefit your company. 
Clean Agent Systems
These fire suppression devices use gaseous chemicals to suffocate the fire instead of water. Clean agents impede combustion, which requires oxygen, fuel, and heat to extinguish the flames effectively. Using clean agent suppression systems with early fire detection systems increases their effectiveness by allowing them to extinguish the fire before it spreads.
The Types Of Clean Agents
FM-200: As a non-ozone-depleting agent, FM-200 is safe around people, making it the most commonly used clean agent system. It also provides excellent coverage, suppressing class A, B, and C flames.

CO2: These fire suppression systems employ highly concentrated carbon dioxide gas to remove oxygen from a room and prevent a fire from igniting. CO2 extinguishes fires quickly but is insufficient in populated areas.

Halon 1301: Because of its environmental impact, it has been banned since 1994. It is no longer manufactured, although older buildings installed before the ban are still permitted to use and maintain it.

INERGEN: Fire suppression systems using this clean agent effectively extinguish fires while being environmentally friendly.
Benefits Of Fire Suppression Systems?
There are numerous advantages to installing a fire suppression system in your office or commercial facility.
Clean agents help put out a fire faster, and depending on the size of the flames, they can entirely extinguish them in ten seconds or less.

Minimal property damage: Because these fire suppression systems do not use water or leave traces behind, they fight fires without destroying equipment or electronics.

Reduced downtime: Compared to alternative fire suppression systems, the business downtime after a fire is significantly reduced because it requires minimal clean-up, if any, and protects the integrity of your computers and other equipment.
Contact Chesapeake Sprinkler Company Today!
Chesapeake Sprinkler Company is a leading fire sprinkler contractor in the region, which is now a 100% employee-owned (ESOP) company. As a full-service fire protection company, we offer design, fabrication, installation, testing, maintenance, and inspection of fire protection systems—everything you need from your fire suppression specialist.
For more information, please email or call our Odenton location at 410-674-7041, our Ashburn location at 703-729-5150, or for service/maintenance Chesapeake Protection Services at 410-674-7577. Feel free to keep in touch through Facebook, Twitter, or LinkedIn!