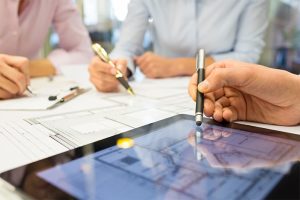 It is mandatory to have a proper fire protection design installed in buildings. This is a legal requirement and impacts your ability to receive and maintain insurance for your property and assets. Additionally, an excellent fire protection design can reduce ongoing maintenance costs. Let's look closer at the importance of fire protection design services.
Commercial Buildings Require Fire Protection Services
Fire protection is essential for every commercial property, and there are various requirements for active and passive fire protection systems. Active systems involve sprinklers, fire detection, and alarm systems that must be activated. Before the building can be occupied, all systems and services must be installed, commissioned, and certified. Additionally, they must undergo regular testing and maintenance following the approved design and require annual inspections.
Here Is What Chesapeake Sprinkler Company Can Do For You
When building a system, it's crucial to have a holistic approach. This means that the design team, owner, and certifiers must work together to create a well-designed system that considers the building's size, use, geometry, occupancy, and existing systems while adhering to the building code. We understand the significance of creating a customized and cost-effective plan that meets your budget and requirements while ensuring your building functions optimally. Our team of experts will prepare a design report with technical drawings and completion needs to ensure everything is up to standard. Moreover, we ensure that our employees are up-to-date on the latest technology so our clients receive the best services possible.
The Benefits Of Fire Protection Design Services 
By hiring Chesapeake Sprinkler Company for your fire protection design services, you can prevent loss of life, property damage, and liability claims. We guarantee that your building will be up to code and safe to operate. Contact us today to learn more about our services.
Contact Chesapeake Sprinkler Company Today!
Chesapeake Sprinkler Company is a leading fire sprinkler contractor in the region, which is now a 100% employee-owned (ESOP) company. As a full-service fire protection company, we offer design, fabrication, installation, testing, maintenance, and inspection of fire protection systems—everything you need from your fire suppression specialist.
For more information, please email or call our Odenton location at 410-674-7041, our Ashburn location at 703-729-5150, or for service/maintenance Chesapeake Protection Services at 410-674-7577. Feel free to keep in touch through Facebook, Twitter, or LinkedIn!