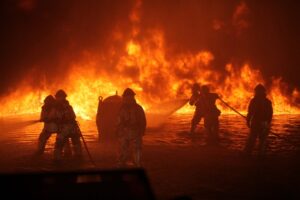 In case of fire or other emergencies, a well-planned evacuation is crucial for the safety of occupants in large buildings. It is important to regularly review and evaluate your evacuation plan for maximum safety. Be sure to consider these practical tips for your fire evacuation plan.
Delegate Responsibilities
In an evacuation, people in the building will seek guidance. Assigning specific responsibilities to individuals in each area and providing them with proper training on the evacuation plan and safety precautions is essential to ensure a safe evacuation. These responsibilities may include a fire event supervisor, communication coordinator, route guides, and floor inspectors.
Inspect Fire Equipment And Procedures
To avoid fires, it is essential to have dependable fire protection equipment that functions correctly. As it is not in regular use, it is vital to conduct frequent inspections to ensure its efficiency. You can use professionals well-versed in fire codes and regulations to carry out the task. At Chesapeake Sprinkler Company,  proactive maintenance programs. It is crucial to remind everyone, especially those accountable for fire safety, about the appropriate processes for using fire protection equipment. Creating a schedule to inspect the equipment and periodically review the procedures is highly recommended.
Fire Evacuation Plan Review/Rehearsal 
It is essential for any building, regardless of its size or number of occupants, to have an exit plan in case of an emergency. This is particularly important for large buildings with multiple exits that require a complex evacuation. It is necessary to walk through the essential steps to familiarize all occupants with the plan, ensuring a safe exit in an emergency. Moreover, the evacuation plan should be clearly outlined and posted throughout the building for easy reference in an emergency. Graphics with directional arrows highlighting the route and safety precautions should also be included to provide an additional safety measure for all occupants. When discussing or practicing the evacuation plan, ensure everyone understands the postings and understands them.
Contact Chesapeake Sprinkler Company Today!
Chesapeake Sprinkler Company is a leading fire sprinkler contractor in the region, which is now a 100% employee-owned (ESOP) company. As a full-service fire protection company, we offer design, fabrication, installation, testing, maintenance, and inspection of fire protection systems—everything you need from your fire suppression specialist.
For more information, please email or call our Odenton location at 410-674-7041, our Ashburn location at 703-729-5150, or for service/maintenance Chesapeake Protection Services at 410-674-7577. Feel free to keep in touch through Facebook, Twitter, or LinkedIn!