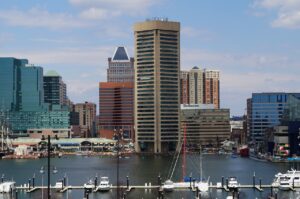 Ensuring fire safety is crucial, especially in high-rise buildings where the architecture poses a significant risk of fires. To keep your facility safe, installing fire protection systems such as wet and dry sprinkler systems is recommended. Chesapeake Sprinkler Company can assist you in installing the most suitable fire safety system for your facility during construction.
High-Rise Buildings are Funnels for Fire and Smoke
One of the reasons why high-rise buildings are deemed fire hazards is because of their design. When a fire erupts on the lower floors of a tall building, the heat and smoke rise upwards to the top. As the hot and smoky air moves upward, it forces cold air to come down to the fire area. This air movement fuels the fire and drives the smoke towards the upper floors. Smoke inhalation poses a grave risk to human health, so people are advised to crawl on the floor in case of a fire.
Fire Protection Design is Critical
According to research, high-rise buildings pose a significant risk due to their complex architecture, making evacuation difficult. With limited options to escape, elevators are not recommended during a fire. Fire protection design aims to provide adequate sprinkler systems, manual alarms, and other safety equipment to prevent and manage fires. Local, state, and federal regulations mandate several exit routes, including interior and exterior stairs. Early detection can be facilitated through manual alarm systems such as the conventional fire pull system. In the event of a fire in a high-rise building, every second is crucial.
How Can Chesapeake Sprinkler Company Help
At Chesapeake Sprinkler Company, we can install sprinkler systems retroactively or work with your construction team to ensure they are well-placed and appropriate for your building. Fire safety should always be a top priority for high-rise buildings, and our expert technicians can make it easier for you. We are available to inspect your facility anytime and advise on the best fire safety practices for your situation. While high-rise buildings may be popular and contemporary, ensuring they are as safe as possible is essential.
Contact Chesapeake Sprinkler Company Today!
Chesapeake Sprinkler Company is a leading fire sprinkler contractor in the region, which is now a 100% employee-owned (ESOP) company. As a full-service fire protection company, we offer design, fabrication, installation, testing, maintenance, and inspection of fire protection systems—everything you need from your fire suppression specialist.
For more information, please email or call our Odenton location at 410-674-7041, our Ashburn location at 703-729-5150, or for service/maintenance Chesapeake Protection Services at 410-674-7577. Feel free to keep in touch through Facebook, Twitter, or LinkedIn!