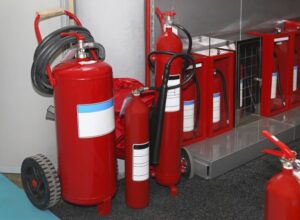 Fire extinguishers are essential for all industries, including retail stores, restaurants, office buildings, warehouses, manufacturing facilities, and other commercial businesses. Regular recharging and replacement of fire extinguishers is crucial. The best way to ensure this is through professional commercial fire extinguisher inspections. In this article, we will guide you on identifying when a fire extinguisher needs to be recharged or replaced.
Fire Extinguisher Recharging
It is important to recharge a fire extinguisher after every use, regardless of whether it is fully empty. This ensures enough pressure and suppressant liquid to extinguish another fire if needed. Additionally, it should be recharged if it becomes damaged or periodically throughout its lifespan. It is crucial to note that only a certified fire protection company should recharge your fire extinguishers. Moreover, an accredited fire protection company should service your fire extinguisher annually per the service manual mentioned on the label. The instances where a fire extinguisher recharge should be done are as follows:
If you have used a fire extinguisher that is still in good condition, it is necessary to recharge it to increase its effectiveness during a fire. 

It is recommended to recharge your fire extinguisher at least every ten years if you have never done so before.
Fire Extinguisher Replacement
It is possible to recharge fire extinguishers until they need to be replaced. Experts recommend replacing fire extinguishers every 12 years, regardless of their condition. If a recharged fire extinguisher does not maintain the correct pressure, it should be replaced immediately. Signs that indicate the need for a fire extinguisher replacement include the following:
A broken or missing pin 

Slow pressure loss

A damaged handle

Missing inspection tag

Corrosion 

Damaged or clogged hoses or nozzles
Which Is Cost-Effective?
If you have smaller canisters, it might make more financial sense to replace the entire fire extinguisher. However, a fire extinguisher recharge could be a more affordable option if the exterior is undamaged and there is a valid inspection tag. Nevertheless, the safety of your occupants is the most important consideration. To stay informed, we recommend monthly inspections by a fire protection company such as Chesapeake Sprinkler Company. 
Contact Chesapeake Sprinkler Company Today!
Chesapeake Sprinkler Company is a leading fire sprinkler contractor in the region, which is now a 100% employee-owned (ESOP) company. As a full-service fire protection company, we offer design, fabrication, installation, testing, maintenance, and inspection of fire protection systems—everything you need from your fire suppression specialist.
For more information, please email or call our Odenton location at 410-674-7041, our Ashburn location at 703-729-5150, or for service/maintenance Chesapeake Protection Services at 410-674-7577. For emergencies, call 800-298-3473 (FIRE). Feel free to keep in touch through Facebook, Twitter, or LinkedIn!